The Best Place To Buy Or Sell Bedroom Furniture, Bar Equipment, Dining Room Furniture
Search

A large amount of hotel bed linen and towels.
All lightly used and in good condition. Clean and pressed.
Purchased from Richard Howarth - Blenheim Bed linen range and Madison towels with chequerboard bath mats.
Conservative estimated quantity
I would consider selling in smaller quantities.
£1950 +VAT ono The duvet sets are a couple of years old and the condition reflects this.
It is all still very usable and a bargain to someone in the market.
I would like £5 for a single set comprising of a single duvet, single sheet, pillow and cover.
I am looking for £10 for a double duvet set comprising of a double duvet, double sheet, pillow and cover.
I am replacing my single and duvets bedding sets with sleeping bags so have a vast amount of bedding to sell.
£5 +VAT ono each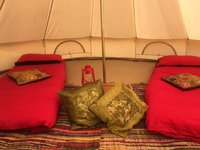 Showing 1 - 6 of 6 items